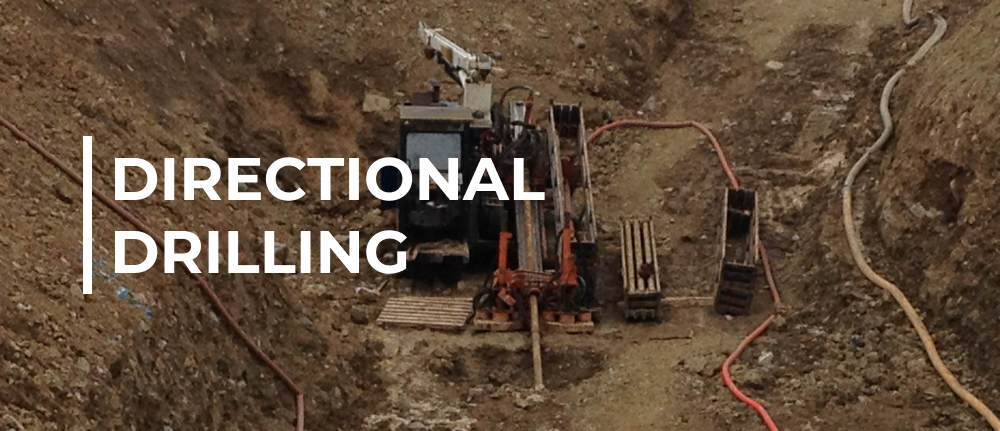 Horizontal Directional Drilling
Directional Drilling is used to provide the efficient installation of service products such as cables, water mains and rising mains – all without rerouting traffic.
Directional Drilling can also be used to do installations under rivers, streams and canals.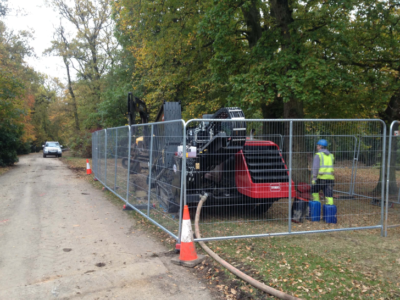 Directional Drilling – The Process
For the required installation, underground obstacles are located and a path around these is identified. A transmitter in the drill head provides depth, position and pitch information.
Specialised drill fluids are pumped through the drill rod and head. These cool the transmitter and suspend the drill path cuttings, creating a liquid slurry which lubricates and seals the drill path.
The angled drill bit and flexible rod can be steered around underground obstacles.
After a rod is inserted into the ground another rod is connected to it at the machine to form the drill string. The drill strings bend, allowing the drill head to move in any direction within the drill rods bending ability.
Directional Drilling – Installing Underground utilities
After completing the pilot bore, a back reamer is attached which enlarges the drill path. The product is then pulled into place behind the back reamer.
As with the pilot bore, the drill fluid is introduced through the back reamer and mixed with the drill path cuttings. The back reamer is sized slightly larger than the product being installed, allowing the slurry in the drill path to flow freely around it. Multiple styles and sizes of pipe or cable can be attached to the swivel on the back reamer.
DIRECTIONAL DRILLING PROJECTS