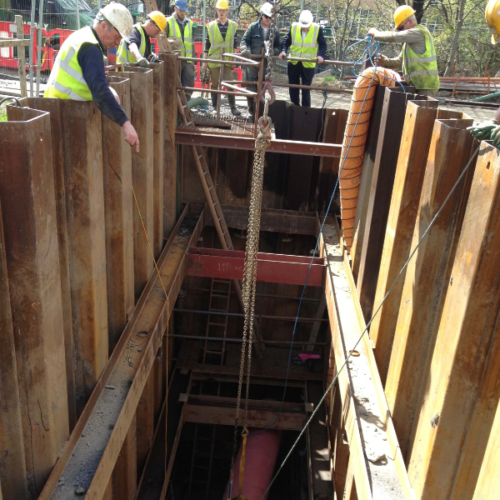 Project Description
Client:  Bord Gáis
Main Contractor: Murphy International Ltd
Installation Method: Pipe Ramming
Ground Conditions: Gravel and cobbles with large volumes of water.
Brief Job Description
Installation of a 300mm steel gas pipeline under the River Tolka at Alfie Byrne Road, distance 55m. It was considered that the ground conditions were too adverse to use microtunnelling so we proposed pipe ramming.
The work involved the installation of a 600mm temporary steel sleeve from a deep shaft in Fairview Park, under the River Tolka, to the centre of a shaft on East Wall Road. Space was limited at the exit location, meaning the exit shaft had to be small (2.5m). The 300mm gas main was installed in the 600mm sleeve and the steel sleeve was removed.
Prior to commencement of work we directional drilled under the river to verify the depth of the river boundary walls.The adverse ground conditions, large volumes of water and deep shafts created a difficult working environment, however, the installation was on target and connection works were completed.